Refrigerators
Top quality, high efficiency reach-in refrigeration by Delfield. The difference with Delfield compared to other manufacturers is that this line has been designed specifically for foodservice – which means it has smart features you'd expect, that others simply do not provide.
Freezers
Blast Chillers, Reach in Pass Through, Reach In and Under Counter models available. All made to Delfield's top notch manufacturing and energy efficiency standards.
Ice Cream Units
Delfield offers over 13 models to choose from in a variety of sizes. All manufactured using high-quality steel and refrigeration components. Choose from fully-equipped ice cream serving stations complete with a syrup rail or one of our more basic storage cabinets.
Milk Coolers
Delfield's Shelleyglas and Shelleysteel mobile milk counters. Choose from water tight refrigerated compartments or a split refrigerator/freezer model.
Air Curtains
Delfield's Shelleymatic air curtain refrigerator keeps cold air in and warm air out, even when the refrigerator is open – saving energy and ensuring food stays at food safe temperatures.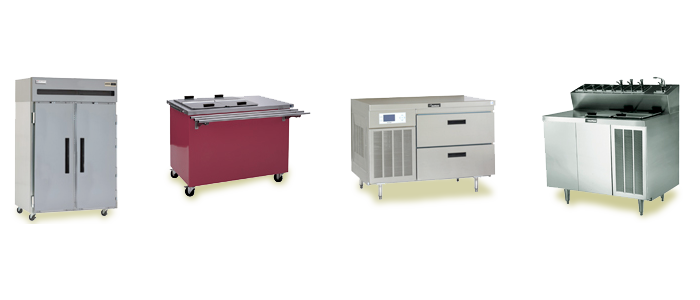 About Continental Refrigerator
Continental Refrigerator, a division of National Refrigeration & Air Conditioning Products Inc. is a major manufacturer of commercial refrigeration. Over time, their full line of reach-in refrigerators, freezers and warming cabinets has been refined and has expanded to include over 1250 models. Continental Refrigerator now manufactures sandwich units, under-counter/worktop refrigerators and freezers, pizza prep tables, griddle stands, milk coolers, bottle, keg, and back bar coolers, glass and plate chillers, roll-in/roll-thru units, and fish file cabinets. All of their merchandise is environmentally safe utilizing CFC-Free refrigerants in both refrigerators and freezers. In addition to the food service industry, Continental Refrigerator markets worldwide to businesses whose cooling requirements are very demanding, such as: The scientific, pharmaceutical, maritime and government sectors. They've built their reputation on service and quality.
Over the past several years, Continental Refrigerator has made substantial investments in new state-of-the-art tooling, including fixturing and refrigeration charging and leak testing equipment to ensure that every Continental Refrigerator cabinet will exceed the most exacting quality standards. Every phase of manufacturing including engineering, design and fabrication is done in-house by their qualified and experienced personnel.
To meet their customer's immediate needs, they maintain a large product mix of inventory in their corporate warehouses, presently located in Bensalem, PA; Boston, MA; Dallas, TX; Houston, TX; Honolulu, HI; Elk Grove Villiage, IL; Oakland, CA; Ontario, CA; Phoenix, AZ; Denver, CO; Miami, FL; Seattle, WA; and Atlanta, GA.
Prior to shipping, all Continental Refrigerator units must pass a unique series of stringent tests for a minimum run time of 12 hours. These tests include bar coded computer refrigerant charging and vacuum leak decay checks, helium leak detection, vibration noise level, visual examination and a temperature analysis recording, which is supplied in each cabinet's manual packet.
To insure maximum safety and sanitation, all models are listed under the reexamination service of NSF, CE and UL.
As food service needs change and evolve, Continental Refrigerator can quickly develop customized equipment packages designed specifically for individual project and chain applications.