Refrigerators
Top quality, high efficiency reach-in refrigeration by Delfield. The difference with Delfield compared to other manufacturers is that this line has been designed specifically for foodservice – which means it has smart features you'd expect, that others simply do not provide.
Freezers
Blast Chillers, Reach in Pass Through, Reach In and Under Counter models available. All made to Delfield's top notch manufacturing and energy efficiency standards.
Ice Cream Units
Delfield offers over 13 models to choose from in a variety of sizes. All manufactured using high-quality steel and refrigeration components. Choose from fully-equipped ice cream serving stations complete with a syrup rail or one of our more basic storage cabinets.
Milk Coolers
Delfield's Shelleyglas and Shelleysteel mobile milk counters. Choose from water tight refrigerated compartments or a split refrigerator/freezer model.
Air Curtains
Delfield's Shelleymatic air curtain refrigerator keeps cold air in and warm air out, even when the refrigerator is open – saving energy and ensuring food stays at food safe temperatures.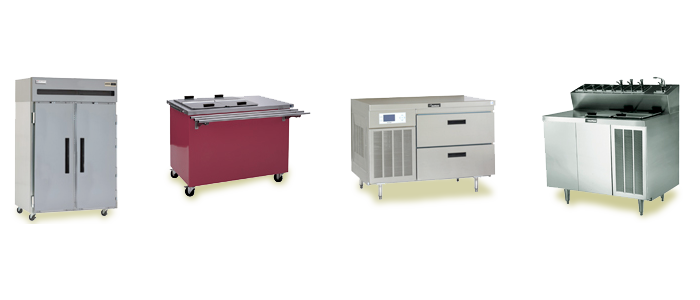 Cubers
Manitowoc Ice is America's number one selling brand of ice machines for a reason – energy efficiency, reliability, and a service and support network that is second to none. Choose from Modular, Remote Air-Cooled and Undercounter/Water Cooled.
Flakers
Highly reliable flaker ice machines that deliver small, hard bits of ice ideal for presentation applications in retail and other operations. Available in both modular air-cooled and undercounter.
Nuggets
Manitowoc Ice is America's number one selling brand of ice machines for a reason – energy efficiency, reliability, and a service and support network that is second to none. Choose from Modular, Remote Air-Cooled and Undercounter/Water Cooled.
Ice Dispensers, Hotels
Beautifully designed hotel dispensers designed for bucket filling by guests. Feature a smooth streamlined design and a patented rocking chute dispense mechanism reduces in-flight ice and ice spillage with quick on/off activation.
Ice Accessories
Choose from a full range of Manitowoc Ice accessories including water filters and filtration systems, automatic cleaning systems, ice bagger and more.
Bins & Storage
Choose from three styles and countless capacities within those style ranges. B-Style are highly designed and offer the perfect fit and finish for the S-Series, C-Style is a more traditional styled bin and F-Style large capacity bins that feature a sliding gate for increased safety.
Condensers
Manitowoc Ice's CVD Remote condensing unit for S-Series and QuietCube ice machines. Vertical discharge remote condenser for Multiplex chillers.

About Continental Refrigerator
Continental Refrigerator, a division of National Refrigeration & Air Conditioning Products Inc. is a major manufacturer of commercial refrigeration. Over time, their full line of reach-in refrigerators, freezers and warming cabinets has been refined and has expanded to include over 1250 models. Continental Refrigerator now manufactures sandwich units, under-counter/worktop refrigerators and freezers, pizza prep tables, griddle stands, milk coolers, bottle, keg, and back bar coolers, glass and plate chillers, roll-in/roll-thru units, and fish file cabinets. All of their merchandise is environmentally safe utilizing CFC-Free refrigerants in both refrigerators and freezers. In addition to the food service industry, Continental Refrigerator markets worldwide to businesses whose cooling requirements are very demanding, such as: The scientific, pharmaceutical, maritime and government sectors. They've built their reputation on service and quality.
Over the past several years, Continental Refrigerator has made substantial investments in new state-of-the-art tooling, including fixturing and refrigeration charging and leak testing equipment to ensure that every Continental Refrigerator cabinet will exceed the most exacting quality standards. Every phase of manufacturing including engineering, design and fabrication is done in-house by their qualified and experienced personnel.
To meet their customer's immediate needs, they maintain a large product mix of inventory in their corporate warehouses, presently located in Bensalem, PA; Boston, MA; Dallas, TX; Houston, TX; Honolulu, HI; Elk Grove Villiage, IL; Oakland, CA; Ontario, CA; Phoenix, AZ; Denver, CO; Miami, FL; Seattle, WA; and Atlanta, GA.
Prior to shipping, all Continental Refrigerator units must pass a unique series of stringent tests for a minimum run time of 12 hours. These tests include bar coded computer refrigerant charging and vacuum leak decay checks, helium leak detection, vibration noise level, visual examination and a temperature analysis recording, which is supplied in each cabinet's manual packet.
To insure maximum safety and sanitation, all models are listed under the reexamination service of NSF, CE and UL.
As food service needs change and evolve, Continental Refrigerator can quickly develop customized equipment packages designed specifically for individual project and chain applications.
American Panel Delivers
It's your call. With HurriChill™ you are free to choose from one of the most extensive lines of blast chillers and shock freezers on the market – with models that can process from 30 to 1500 pounds of food per cycle.
Experience matters. American Panel has an experienced engineering team at your service that has complete knowledge of the entire HurriChill™ line. Count on their team to work with you in creating the best solution for your specific application.
Rely on American Panel. An industry leader in customer service, American Panel's fully trained technicians are able to service your needs throughout North America. Their engineers are available for on site installation supervision and training. A comprehensive inventory of parts is also available for immediate shipment should the need arise.
Always remember. You can count on enjoying the highest possible level of customer satisfaction with the American Panel – HurriChill™ lines of blast chillers and shock freezers.
High Quality Refrigeration Equipment
Turbo Air is dedicated to the manufacture of high quality refrigeration equipment. With superior workmanship and materials, you can rely on the performance of Turbo Air.
Industry Leader in Refrigeration Equipment for Over 65 Years
For over 65 years, True has been an industry leader in commercial refrigeration and continues to exceed customer's expectations through high standards in customer service, quality materials, design, availability and performance.
As a world leader in refrigeration products, True Manufacturing remains steadfast in its mission to provide a wide range of American made refrigeration products, which exceed industry quality and performance standards.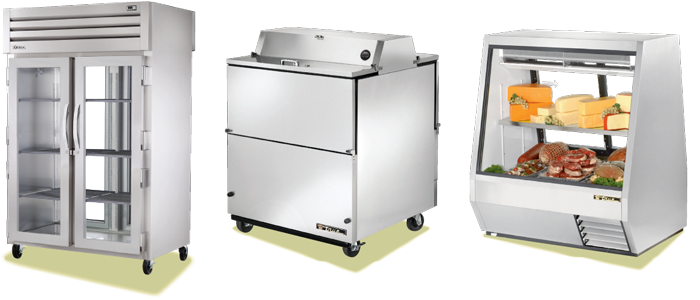 About Beverage-Air
Founded in 1944 by John Buffington, Beverage-Air is a leading manufacturer of commercial refrigeration equipment for the food service industry. John invented the first horizontal bottle cooler and filed the patent almost 70 years ago. In 1946 John brought his brother Herman Buffington into the business. Beverage-Air has been synonymous with innovative, high-quality refrigeration products that set the standard for the industry.
A Heritage of Expertise & Leadership
Throughout its history, Beverage-Air has remained at the forefront of the food service and beverage industries. At the core of their business is a firm commitment to customers, the industry and the environment. Beverage-Air is constantly honing their offerings by incorporating research, innovation and responsibility to deliver the most complete line of equipment to the industries they serve.
State-of-the-Art Refrigeration Solutions
Beverage-Air's vast array of solutions are built on next-generation technologies and a diligent focus on safeguarding food and beverages for consumption. They take pride in designing and manufacturing state-of-the-art coolers and display cases that keep food and beverages cool, while maximizing product sell-through.
A Vast Product Portfolio
Beverage-Air's portfolio of market-leading products includes glass door merchandisers, low temperature display merchandising cabinets, reach-in merchandiser coolers, under-counter coolers, worktop and food preparation tables, beer dispensing equipment, refrigerated and dry display cases, back bar, curved glass merchandisers, counter top refrigerators, and deli display cases.
About Victory
For over 65 years Victory has been a leading manufacturer of commercial foodservice refrigeration products, focused on providing customers with unsurpassed value, superior customer service and the highest quality products available in the industry today. A continuous product development process ensures a steady stream of innovative, technologically advanced designs; which provide the ultimate in energy efficiency, food safety, storage flexibility, reliability and durability. Each Victory model is designed with essential standard features, while also offering a wide variety of options, accessories and modifications.

Why do so many businesses choose Electro Freeze machines? Because they're easy to use, easy to maintain, and even easier to turn into profits.
And every day, we're expanding that profit potential through a continuing commitment to innovation and industry-leading customer support. We help our customers maximize profits with menu ideas, merchandising materials and enticing point-of-purchase posters. All of our equipment comes with knowledgeable, responsive service and local support from our national network of distributors.
ICS offers a one-piece walk-in freezer or cooler designed for both outdoor use and indoor use. This type of outdoor storage has fulfilled a need of the foodservice industry by providing a solution that helps reduce high construction costs normally associated with new or remodeled construction projects. The overall footprint of the building is reduced by placing the walk-in freezer or cooler on the outside of the structure, realizing a net savings in construction time, labor, materials, and overall spending. ICS has numerous foodservice chain partners who, for years, have utilized the ICS one-piece design for their walk-in needs.