Quality Melamine & Plastic Dinnerware
Prolon has been manufacturing high quality melamine dinnerware, accessories and plastic storage containers for the foodservice industry for over 45 years. Prolon manufactures all of its thermoset and injection molded products in a state-of-the- art facility in Port Gibson, Mississippi. Prolon has led the industry in introducing new uses for melamine and plastic dinnerware in the foodservice industry. Prolon continues this tradition with the introduction of Carerra hi-heat dinnerware, made of a special plastic that is formulated for microwave cooking, as well as conventional oven baking up to 400 degrees.
Prolon is also offering several new products, colors, and patterns, all designed for durability and versatility. In addition Prolon offers a variety of injection-molded products that include trays, tumblers, tote boxes, and storage containers. Prolon offers unique sizes and colors, plus outstanding value to meet the need of any foodservice operation, no matter how large or small.
All of the exciting product choices Prolon offers provide unique solutions and exceptional value for food service operators.
Prolon sets the standard for quality, value and customer service.
The HLC Brand
With 140 years experience the in dinnerware industry , The Homer Laughlin China Company stands as the largest remaining domestic tableware manufacturer in the United States, employing over 800 skilled craftsmen in a 37 acre facility. The Homer Laughlin China Company has pursued the issues that matter most to our customers: lead-free dinnerware, durability, forward thinking design and timely delivery.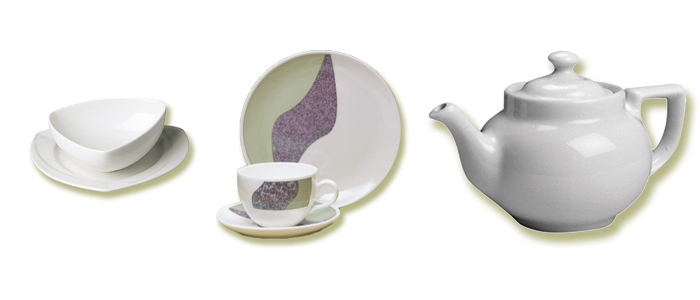 Tableware
Carlisle dinnerware and drinkware sets the industry standard for functional beauty and lasting value. You can depend on Carlisle's melamine service and polycarbonate drinkware to provide the versatility and durability that makes work easier.