Injection-Molded Storage Solutions
Prolon has been manufacturing high quality melamine dinnerware, accessories and plastic storage containers for the foodservice industry for over 45 years. Prolon manufactures all of its thermoset and injection molded products in a state-of-the- art facility in Port Gibson, Mississippi. Prolon has led the industry in introducing new uses for melamine and plastic dinnerware in the foodservice industry. Prolon continues this tradition with the introduction of Carerra hi-heat dinnerware, made of a special plastic that is formulated for microwave cooking, as well as conventional oven baking up to 400 degrees.
Prolon is also offering several new products, colors, and patterns, all designed for durability and versatility. In addition Prolon offers a variety of injection-molded products that include trays, tumblers, tote boxes, and storage containers. Prolon offers unique sizes and colors, plus outstanding value to meet the need of any foodservice operation, no matter how large or small.
All of the exciting product choices Prolon offers provide unique solutions and exceptional value for food service operators.
Prolon sets the standard for quality, value and customer service.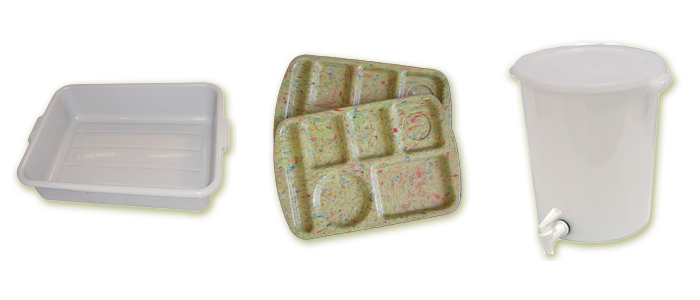 Traex® Color-MateTM Food Boxes and Cover
Key Features
    Affordable and sanitary food storage solutions
    Snap-On lids provide 46% increased capacity
    Clear polypropylene lids offer easy view of contents
    Lids firmly attach to boxes
    Freezer safe
    Dishwasher safe
    NSF approved
    Color coded: red – raw meat, yellow – poultry, blue – seafood, green – produce, white – dairy
Smart. Safe. Sanitary. San Jamar.
At San Jamar, innovative new ideas for food safety, counter service and washroom products come directly from insights gained from customers. That's why San Jamar works alongside customers in every facet of their operations, listening to their challenges, identifying potential problems and looking for the small changes that could make big improvements in safety and efficiency. Finally, responding with ground-breaking new products that make their operations smarter, safer and more sanitary. Then, when finished, start all over again.
Of course, just as customers look to San Jamar for the innovative ideas that define "what's next" in the industry, San Jamar remains committed to them by continually providing outstanding customer care, unsurpassed quality and a world-class supply chain. Sure, it's a simple philosophy. But it's an approach that has made San Jamar an industry leader for over 20 years, and one that will help continue to guide the way well into the future.

Trusted For Generations
Cambro Manufacturing supports foodservice operators worldwide with products designed to make operations safer, more efficient and more profitable.
Product categories include trays, table service and display items, storage, shelving, merchandising and insulated transport products, warewashing systems and healthcare meal delivery solutions.
Foodservice
Imagine being able to trust one manufacturer for over 75% of your kitchen! Advance Tabco makes everything including sinks, work tables, dish washing tables, cabinets, chef counters, shelving, aluminum racks, and more. Rest assured knowing that your project is in the hands of one of the most trusted and recognized names in the industry.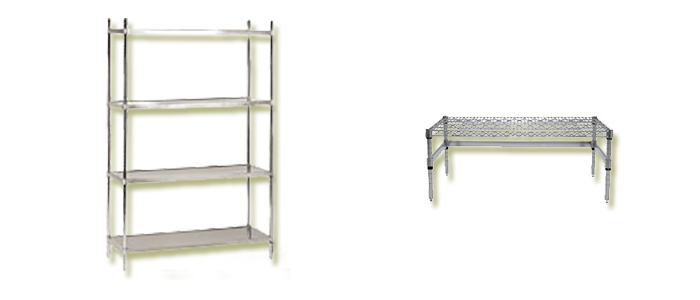 Dexter-Russell
Dexter-Russell, Inc. is the largest manufacturer of professional cutlery in the United States. Throughout their long and rich history, they have maintained a tradition of excellence in both materials and workmanship. Dexter-Russell is the proud successor to the two oldest American cutlery manufacturers: The Harrington Cutlery Company and the John Russell Cutlery Company.
Henry Harrington, a New England craftsman and inventor, established the first cutlery company in the United States on June 18, 1818 in Southbridge, Massachusetts. Harrington manufactured surgical equipment and shoe knives, as well as well crafted firearms. As his cutlery line expanded, he gradually discontinued his firearm business. In 1884, Harrington introduced the Dexter trade name. The Dexter line of fine kitchen and table cutlery soon gained a reputation for quality in America's homes and restaurants.
Another New Englander, John Russell, founded his Green River Works on March 1, 1834. After having made his fortune in the cotton industry, Russell, at age 37, turned his energies to the manufacturing of quality cutlery. He built his water powered factory on the banks of the Green River near Greenfield Massachusetts. His first products, chisels and axe heads, were made from fine English steel of the type normally reserved for tableware. As the Green River works expanded its line to include knives, the company continued to use only the finest materials.
By paying much higher wages than English cutlers, Russell was able to attract skilled European craftsmen to his factory. With all the manufacturing operations consolidated under one roof, these skilled craftsmen were able to produce large quantities of high quality hunting knives to supply the needs of America's western frontier.
On May 1, 1933, the Harrington Cutlery Company and the John Russell Cutlery Company merged, bringing together the two most respected names in cutlery: Dexter and Russell. The new company, Russell Harrington Cutlery Company, offered a broad range of quality cutlery products from the famous knives that "won the west" to innovative cutlery for the professional and industrial markets. In 2001, the company changed its name to Dexter-Russell, Inc. to reflect its long history of product brand identity.
Today, the same tradition of quality and variety is carried on in Southbridge, Massachusetts, where Dexter-Russell produces the broadest line of professional cutlery made by any single manufacturer in the world.