Features of the Concepts™ Serving System
Interchangeable décor panels: What's hot today may change tomorrow. With Delfield's new interchangeable décor panels, you can purchase new panels from Delfield and with standard tools; easily refresh the look. Changing a concept to fit with changing tastes has never been easier.
Low budget or sky's the limit? You decide. With varying levels of top materials, accessories and front finishes, you determine what your serving area needs to make it the next hot thing.
Unlimited panel options: Choose from thousands of standard laminate front finishes, custom laminates or even environmentally friendly 3form® Eco-Resin to create your signature look. Add stand-off panels to create an even more upscale serving area.
Curve Appeal: Generate excitement by adding curved counters into the mix. Delfield's new Concepts line has two different standard radius models and even more transition pieces to help you create a fresh look without breaking your budget.
Tray Slide: Available in different finishes to match your top décor, these tray slides add a lot of style. Choose from radius tubular tray slides, top extensions with runners independent fixed solid surface or granite or stainless steel solid "V" tray slides.
Sound construction: The new Concepts line features rugged galvanized construction with Sanalite® reinforced backs.
Kick it up: All Concepts lines are available with adjustable black laminate kick plates for easy floor alignment. Custom finishes are available.
Come together: Designed to be joined in the field, the Concept line features a spline joining system. This system makes the seams virtually disappear so all you see is one beautiful counter.
Flexibility first: Understanding menu dictates equipment, the Concepts line was developed for adaptability. By incorporating cutouts for warmers or Delfield's undercounter refrigerators, freezers, prep tables or reach ins you can easily roll different pieces in and out to make the most of your equipment.
On top: Top configurations include everything from stainless steel (even on the radius counters), to various manufacturers of solid surface materials, HanStone™ quartz material and even granite.
Sleek streamlined design: Ducted ventilation system eliminates the need for louvers. The result is a nice smooth, seamless finish that emphasizes the high style without compromising performance.
Inserts: Maximize productivity and efficiency by having everything you need in one location within reach. Refrigerated, heated or dry storage inserts available or roll in Delfield standard production pieces.
Highest standards: All of the Delfield Concepts serving systems have full NSF and UL listings. This ensures your serving line meets the strictest codes and adheres to all regulatory listings.
Electrical requirements: Various electrical options range from pre-wired to a breaker panel to an optional cord and plug on free standing single units.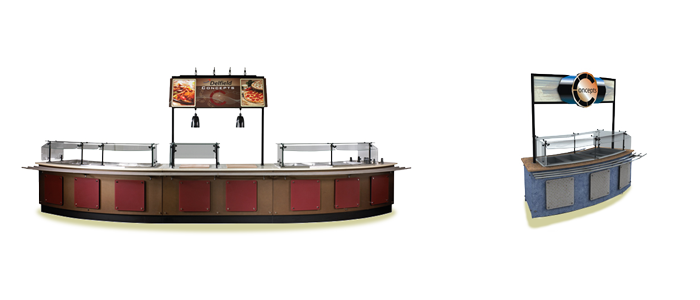 Modular Counters
DineXpress® modular counters offer unlimited options for customization and design. While Dinex counters are available for the conventional trayline and kitchen systems, they can now be completely upgraded for your front-of-the-house serving systems.
DineXpress® counters offer a wide variety of options and accessories, from decorative Protector Guards (sneeze guards) to customized shelves, tray slides and cutouts. Counter styles and sizes range from a simple cashier stand to a 91? turn stand, with under-storage.
All DineXpress® equipment features a unique, interlocking EZ-Connect system for joining any combination of counters. They also offer the "Easy-Access Drawer"; a drop down panel (removable faceplate) that allows quick access to the heating elements and wiring. An industry first!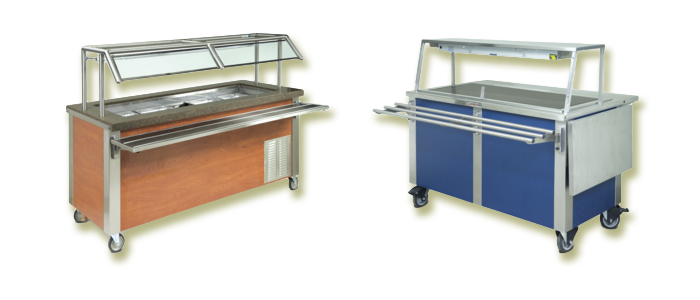 About Piper Products
Piper Products doors opened in Cudahy, WI in 1960. As a small company catering to the needs of local, independently owned bakeries and grocery stores, Piper started by primarily supplying bread racks and food transport cabinets. As the business grew and industry contacts were made and fostered, the desire for expansion demanded that Piper look for more ways to support their growing client base.
In 1990, Piper bought Super Systems, a company out of Green Bay, WI, who offered a quality line of ovens and proofers that could accommodate any baking need. That same year, Piper closed the Cudahy, WI facility and moved operations to Wausau, WI.
In an effort to expand the product line, Piper purchased three companies between 2000 and 2006, SECO Products Corp., Servolift, and Chef System, an extensive line of Cook & Hold Cabinets. With product and distribution lines Piper hadn't already had, SECO's Elite and Reflections cafeteria and buffet serving systems was exactly the direction Piper was anxious to head in. Expanding their presence in schools, hospitals, and prisons, SECO's premier line of cafeteria and buffet serving equipment was the perfect addition to Pipers quickly growing lineup.
In 2013, Piper purchased R&D Fixtures out of Tennessee. R&D Fixtures, already well known in the grocery and convenience store market as manufacturers of customizable ready-to-eat food merchandising equipment, has been an exciting asset to their existing line of refrigerated and heated food merchandisers.
Piper Products is focused on providing quality products, unparalleled service, and optimum value.